For a project on noise pollution in the oceans at the Natural History Museum in Berlin, I recently made this plot of the hearing and vocalization ranges of selected marine animals. Range plots are generally not-so-common plots. In this example, I plotted the hearing and vocalization range (frequency) for several species of whales, dolphins, seals, turtles and fishes.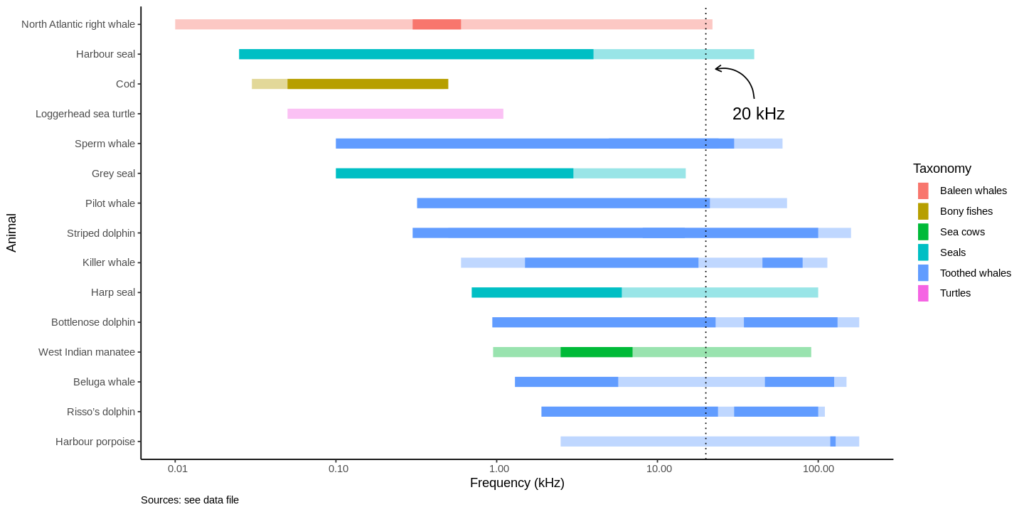 Frequencies from 10 Hz to 100 kHz are on the x-axis, using a logarithmic scale. Note that range plots are by default vertical, so I had to flip the plot using coord_flip().
Ranges are grouped by "taxonomy"
Two ranges are overlaid: the transparent ranges represents underwater hearing abilities, the solid-colored range shows the frequencies at which specific animals vocalize underwater. Note that some vocalization ranges are split in two, as dolphins whistling and echolocation clicks are separate ranges.
An annotation at 20 kHz shows the highest frequency a human could hear.
Now take a look at the harbor porpoise range: harbor porpoises are mute, they only emit echolocation clicks. See how high they are (>100 kHz), just above the hearing range of killer whales! So harbor porpoises can hear the killer whale coming, but the killer whale cannot hear them.
Here is the code:
# load libraries
library(ggplot2)
library(repr)

# read the data
url <- "https://gitlab.com/alvarosaurus/blog/-/raw/master/posts /data/marine_animals.csv?inline=false"
ranges_data <- read.csv(url)

# image aspect ratio
options(repr.plot.width=12, repr.plot.height=6)

# ranges, sorted by best hearing frequency, ascending
ranges_plot <- ggplot(ranges_data)

# full hearing ranges
ranges_plot <- ranges_plot + 
    geom_linerange(
        size = 4, 
        alpha=.4, 
        aes(
            x=reorder(Animal, -hearing_min), 
            ymin = hearing_min/1000, 
            ymax = hearing_max/1000, 
            color = Taxonomy))

# vocalization ranges
ranges_plot <- ranges_plot + 
    geom_linerange(
        size = 4, 
        aes(
            x=reorder(Animal, -hearing_min), 
            ymin = voc_min/1000, 
            ymax = voc_max/1000, 
            color = Taxonomy))

# click ranges for dolphins
ranges_plot <- ranges_plot + 
    geom_linerange(
        size = 4, 
        aes(
            x=reorder(Animal, -hearing_min), 
            ymin = clicks_min/1000, 
            ymax = clicks_max/1000, 
            color = Taxonomy))

# axes and labels
ranges_plot <- ranges_plot + 
    scale_y_log10(
       labels = function(x) format(
          x, scientific = FALSE)) +
    labs(
        x="Animal",
        y="Frequency (kHz)", 
        caption="Sources: see data file") +
    coord_flip()

# theme and caption
ranges_plot <- ranges_plot + 
    theme_classic() +
    theme(plot.caption = element_text(hjust=0))

# annotations
ranges_plot <- ranges_plot + 
    geom_hline(
       yintercept = 20, linetype=3) +
    annotate(
       "text", 
       x=12, y=20, 
       label="20 kHz", 
       hjust=-0.5, size=5) +
    annotate("curve", 
             x=12.5, y=40, xend=13.5, yend=23, 
             arrow=arrow(length=unit(0.2, "cm")))

ranges_plot